OP-Tapes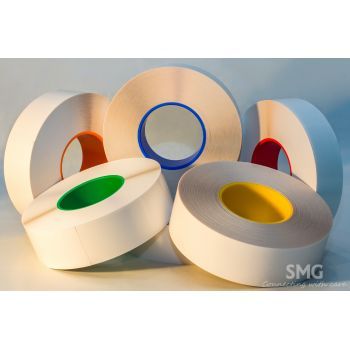 Produits
Les OP-Tape
Utilisation prévue
L'OP-Tape est destiné à fixer le drap chirurgical sur la peau du patient dans le but d'aménager une zone chirurgicale stérile et hygiénique. Après avoir servi, le drap est traité en laverie où le ruban est retiré du textile. Un nouveau ruban peut alors être fixé sur le drap.
Description du produit
Les OP-Tape sont des rubans double-face composés d'un support dont les deux faces sont revêtues d'un adhésif thermofusible sensible à la pression, sans solvants et sans eau.
Avantages
Pendant l'intervention chirurgicale, le ruban n'est pas altéré par des liquides corporels ou autres fluides utilisés pendant l'intervention.
Revêtu de deux types d'adhésifs particuliers, ce ruban assure des performances optimales pendant les interventions chirurgicales mais il est aussi facilement soluble au lavage en laverie.
L'adhérence des adhésifs employés n'est pas altérée par la stérilisation et le ruban atteint sa force d'adhérence finale sur le textile à l'issue de la stérilisation à la vapeur.
Les adhésifs sont biocompatibles.
Please feel free to contact us,
if you would like to receive more information about our products.
---
*** high ** meduim * low
1) All non-soluble skin side adhesives are resistant to alcohol disinfectants.
2) All wash soluble adhesives are not resistant to alcohol disinfectants. We advise to only apply the tape to fully dried skin.
3) The PET carriers with the non-soluble adhesive wrapped inside, need to be removed after the washing process.
4) The Med/PE175+ (yellow) is specifically designed for drape-to-drape applications. For example for instrument pouches. Its PET carrier needs to be removed after the washing process.
5) Wash soluble means that the tape is soluble in an alkaline containing solution, such as water and caustic soda.
---